Summary:
Use some amount of CRV from the community fund and some percentage of the admin fee to create a Balancer pool that automatically buys back CRV
Abstract:
I basically am stealing the idea here: https://www.placeholder.vc/blog/2020/9/17/stop-burning-tokens-buyback-and-make-instead. Please have a read if you have time, I think it poses some ideas that are useful for us to think about.
Motivation:
Some people are really in favor of reducing the supply of CRV. Others are in favor of focusing on utility that drives real demand for CRV. I believe we can achieve both with a buyback machine that purchases CRV with fee earnings. The CRV bought back can be used at the discretion of the DAO to fund development, insurance, pay grants, or any number of things that benefit the whole ecosystem.
Specification:
There's quite a bit of flexibility we get from a Balancer pool. We can make a pool that is owned and controllable only by the DAO smart contract. We can specify the proportion of CRV and 3CRV (or USDT/USDC/DAI) that the pool targets. We can set and adjust the trade fee to encourage/discourage trading. We can deposit and withdraw liquidity whenever the DAO votes to do so. See a list of configurable rights our smart pool could have here.
For example, say we set the proportions to 90% CRV, 10% 3CRV. We source the CRV from the community fund, and the 3CRV from a percentage of the admin fees earned. Over time, the 3CRV accumulates in the pool, and automatically sells 3CRV whenever it exceeds the 10% target.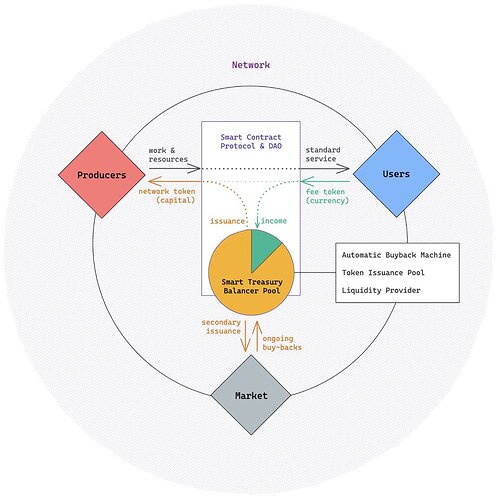 For:
This buyback method will reduce the outstanding supply of CRV, which benefits CRV holders by helping to create a price floor for CRV (the pool will keep buying CRV if the price continues falling). It also benefits veCRV because the CRV bought back cannot be eligible to earn fees. Therefore, it mitigates dilution of future fee earnings for existing veCRV holders. Additionally, the CRV earned through the buyback can be applied for any purpose at the discretion of the DAO. It helps build our community fund, which we can funnel back into ecosystem growth.
Against:
Doing this likely means veCRV holders must be willing to give up a portion of their personal fee earnings in favor of benefiting the entire community, and people are generally selfish and shortsighted. Also, balancer pool smart contract risk.
Poll:
This signal vote is not asking about the specific balancer pool implementation. I describe it above to share the idea of how a buyback machine might work. This vote only asks if you are open to applying some portion of your veCRV fee earnings and some portion of the community fund CRV toward a buyback machine (likely starting quite small if there is indeed support for this). If there is support, I'll follow up with a poll on numbers that would be agreeable to the community.
https://signal.curve.fi/#/curve/proposal/QmZ1CRRXq5zYPqh5LzyDgXUstnrcjSsHmjv1PLgyD5gMFj