Proposal to add TRYB/USD(3CRV) to Gauge Controller:
This proposal is submitted by the BiLira Team.
Summary:
This is a proposal to add TRYB/USD(3crv) pool to the Gauge Controller, giving LPs the ability to assign gauge and mint CRV by participating in the pool.
TRYB(BiLira) is a Turkish Lira backed and 1:1 collateralized ERC-20 compatible stablecoin issued by BiLira Teknoloji A.Ş. ("BiLira"). The company was founded in 2019 to provide a cryptocurrency alternative to the Turkish Lira that is fully decentralized, meaning that it can be transferred and/or stored on any Ethereum, Avalanche, Solana, Polygon and BNB wallet or exchanged for other cryptocurrencies on a variety of centralized and decentralized exchanges. On DeFi applications, Turkish users mainly use TRYB to transfer and exchange value, and to earn yield. By adding TRYB to Curve, Turkish DeFi users would be able to access and use that platform directly with their Turkish Lira through the BiLira fiat ramp.
USD variant stablecoins are also the most used crypto assets by Turkish Users. TRYB is actively exchanged for USD variant stablecoins. If a healthy and liquid pool is fostered with the gauge incentive, the pool has the potential to become the main hub where the TRYB - USD swaps take place. This would mean that the users would swap TRY for TRYB through BiLira and then utilize the Curve pool for USD swaps. Total TRYB/USD volume was above $300+ M last year.
With almost double the crypto adoption rate of Turkey compared to that of Europe, this will also empower users without access to fast, low fee transactions that are still stuck in traditional financial ways. BiLira wants to scale this to meet the demand from users and will partake in on-chain gauge governance and boost usage. BiLira will also try to keep the pool balanced as more LP's participate and more transactions will occur.
After receiving numerous requests from our community to add TRYB to Curve, our team created and deposited the initial liquidity to the TRYB/USD(3CRV) pool.
For the next step, we propose to add the TRYB/USD(3crv) pool to the Gauge controller, and incentivize users to also add liquidity to the pool.
References/Useful links:
Contracts: Ethereum, Avalanche, Polygon, Solana, BNB
Protocol Description:
The BiLira (TRYB) token is a full-reserve stable cryptocurrency that is built on 5 different blockchains, issued and managed by the BiLira organization, backed by the Turkish Lira and collateralized 1 : 1, secure and compatible with ERC-20 token standards. Users can use the web application on BiLira.co to conduct TRYB issuances and redemptions between their local banks and their digital wallets.
The minting of on-chain TRYB is from fully collateralized bank deposits. Users connect their wallets and deposit fiat currency (TRY) into BiLira's bank account. BiLira confirms the transaction and verifies the smart contract. The smart contract then mints corresponding TRYB tokens and sends them to the customer's crypto wallet. Corresponding fiat currency is held in BiLira's reserves. This information can be verified through our audit reports that are done via 3 party firms.(link to the reports can be found below). Another factor is that BiLira doesn't hold the users crypto assets. The issuance process is non-custodial and the assets are sent to the users wallet addresses that they provide. For redemption, users send their TRYB to their BiLira redemption wallets, and convert the specified TRYB to Turkish Lira through BiLira.co. All of the redeemed TRYB from customers are burned in a monthly routine. BiLira firm uses enterprise-grade multi-layer security measures such as Multi-Sig wallets through Fireblocks.
Motivation:
Cryptocurrency adoption in Turkey is one of the highest in the world and continues to grow as a result of the increasing demand for digital assets and financial services. A survey by ING illustrates that almost 18% of Turkish people have used or owned cryptocurrency in some form, compared to 9% across the European Union. This has been driven by the high inflation rate and economic uncertainty that has been experienced in Turkey over the last few years. The Turkish Lira (TRY) has been especially severely impacted, with its value dropping by over 40% since the beginning of 2020. As a result, Turkish users actively seek for alternative financial instruments and solutions. By creating the TRYB/USD(3crv) pool, we wanted to open the gates of Curve to the Turkish DeFi users.
With such a large base of crypto users, TRYB pools on Curve Finance would provide Turkish users with easy access to the decentralized finance ecosystem and make it easier for them to adopt and trade crypto assets. Besides, all TRYB holders can benefit from low transaction fees as well as faster swaps and many incentives to hold their assets in the ecosystem when handling their finances through Curve.
Furthermore, by incentivizing TRYB on Curve there will be an incentive for users to provide liquidity and actively swap tokens. This will consequently result in more users joining the platform, increased trading volumes and the pool established for TRYB on Curve will also help increase awareness of BiLira's token and its utility as a stablecoin pegged 1:1 with the Turkish Lira. Providing this type of service could draw in new Turkish traders who may not have previously considered investing in cryptocurrencies or utilizing decentralized platforms. For instance, as more people begin using TRYB tokens for their transactions or contribute to the relevant liquidity pool, traders will have more opportunities to arbitrage between different exchanges and earn profits from price discrepancies across markets. As a matter of fact, incentivizing TRYB on Curve will also create new opportunities for institutional investors who are looking for ways to diversify their portfolio with digital assets.
Specifications:
You may find the full details on the project in the BiLira White Paper and for all the other information please refer to BiLira homepage.
Governance:

TRYB is centralized and issued by BiLira and does not have a governance forum.

Oracles:

TRYB has a Chainlink oracle that can be found here: Oracle

Audits:

BiLira's TRYB is being audited twice a year by an independent auditor to ensure all TRYB's are fully backed by TRY. See the latest audits here.

Centralization vectors:

TRYB is inherently centralized and issued by BiLira. Users who complete the KYC/AML process are allowed to issue and redeem TRYB for TRY 24/7.

Market History:

TRYB has been on blockchains since early 2019. It has been listed and used on numerous DEXs and CEXs since its launch. Until today more than 5 billion TRYB has been issued by BiLira to fulfill the user demand. See Coingecko history here.

From August 2020 and up until 31 October 2022, TRYB was within +/-1% of the peg 93.14% of the time and within +/-2% 98.90% of the time.

There are some market places where there is lack of liquidity which does not make a sufficient impact on the peg. Outliers on the TRYB/TRY peg distribution rarely occur on these marketplaces with relatively less volume. However, TRYB peg is guaranteed with the TRY held in the bank account of BiLira. Users can always redeem TRYB for TRY(1:1) via this link.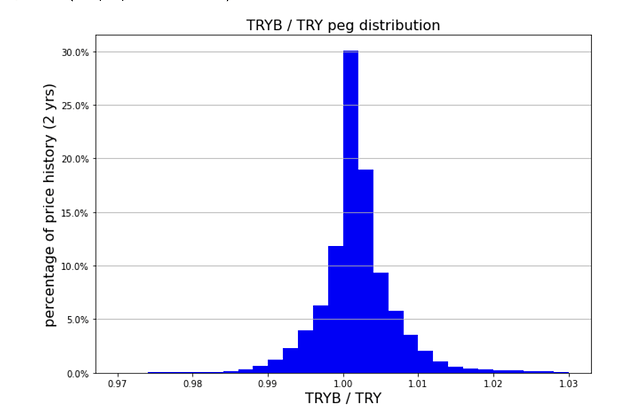 Pool: TRYB/USD(3CRV)
Gauge: Link
Voting:
For: Means that you support Curve to proceed with the above arrangement.
Against: Means you do not support Curve to proceed with the above arrangement.
Poll: Poll coming soon after temp check/discussion