Summary:
Proposal to reduce 3pool fee from 3 bps to 1 bps (based on simulation results)
Abstract:
Optimizing 3pool fees has become increasingly important as competition for stable-coin trades has increased. Previously, using arbitrage simulations, we found that lowering fees was unlikely to produce sufficient volume to make fee decreases profitable. However, these simulations only considered arbitrage trades against 3pool in isolation.
We developed a new simulation approach which simultaneously simulates arbitrage trades against 3pool and the major meta-pools that use it as a basepool (listed below). This approach allows us to estimate how changes in 3pool fees affect returns across the whole 3pool meta-pool ecosystem.
Simulating the last 2 months, we found that reducing 3pool fees to 1bps would increase overall returns across the system
Figure 1: Cumulative fees for 3pool + metapools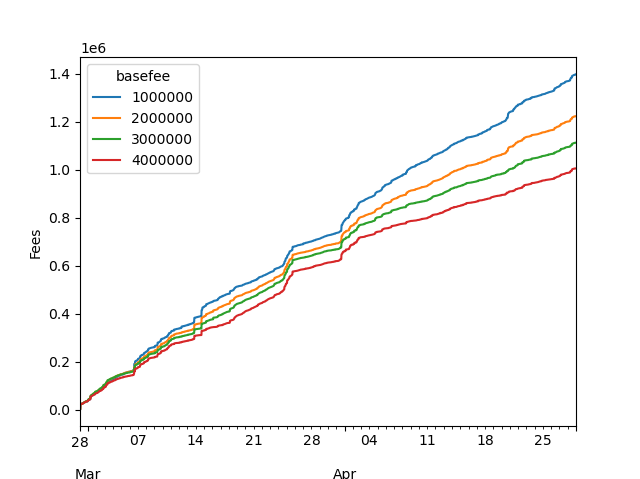 Figure 2: Accumulated fees over 2 months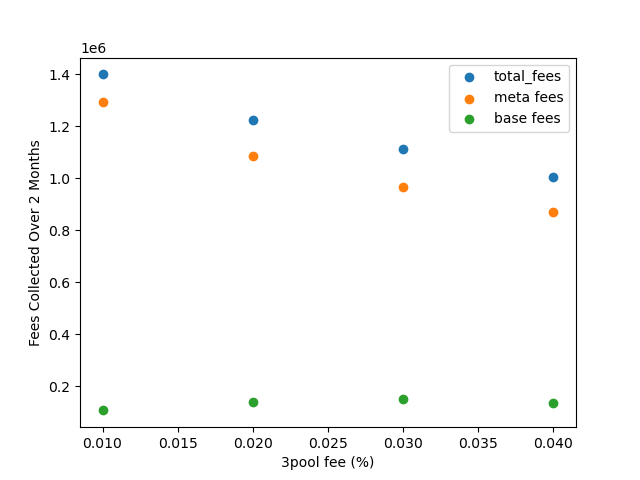 As can be appreciated from the figures, the simulations suggest that lowering 3pool fees would improve overall returns by increasing meta-pool returns.
For:
Simulations suggest increased returns
Lower fees are also likely to attract more "random"/non-strategic volume that is not captured by the simulations
Against:
LPing in 3pool itself will be less profitable. However, only a small subset of 3pool deposits are not from metapools.
Pools used in sim:
3pool, usdn, wormholeUST, paxos, mim, frax, lusd, ust, alusd, busdv2, gusd, dola, ousd, fei