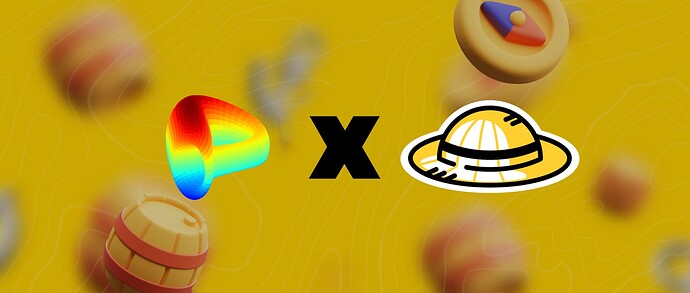 Summary
Proposal for the open collaboration of OnePiece as a multi-chain operational system available for Curve users.
Proposer
Chris D. Beckman, Head of Business Development at OnePiece, is submitting this proposal on behalf of NatureLabs, the creator of OnePiece.
Abstract
Onchain composability plays a pivotal role in Defi's evolvement for both end users and developers – a high percentage of their onchain tasks, strategies or new protocol construction requires interoperations across multiple protocols combined with calculations & data monitoring.
OnePiece is the first multi-chain middleware layer that renders swift & automated access to onchain application & onchain composability, aiming to substantially reduce the barrier & cost of utilizing onchain composability of Dapps to accelerate the development & adoption of Defi. In specific, OnePiece provides :
End users with a set of automated Defi Task Types, which :

A. Turn complex manual execution of a typical Defi task to a simple 3-step task definition process.

B. Optimize user's capital efficiency.

Developers with :

A. As Infura is saving developers effort for node setup & maintenance, Onepiece wants to save comparable amount of effort when developers access Dapps;

B. Onchain data requires considerable effort in processing & structuring before they are ready for use, even for data provided by "The Graph". Onepiece saves that for developers.
Benefits
For Curve's users,
Increased revenue for liquidity providers. OnePiece users can swap assets directly from Curve's pools, generating more fees payable to Curve's LP.
For Curve's users (using loan),
Provide a 2-level protection against liquidation:

a. Keep user's collateral ratio to preset target through auto rebalancing across his lending position & farming/staking positions.
b. In case of rapid collateral ratio rise, part of the collateral is sold via Flashloan to return to the target collateral ratio to avoid liquidation.

Increase users' capital efficiency (up to 50%): When the collateral ratio drops below preset standard, it will return to the target collateral ratio by auto borrowing extra to increase user's predefined farming/staking positions

Save much of user's manual execution for tasks involving interoperations between Curve & other protocols through automation & auto data monitoring.
For developers,
Provide more uniformed ABI to access Curve smart contracts to shorten the learning cycle.

Provide processed & structured Curve data to save data acquisition & processing time.

Provide documents to accelerate user's development on top of Curve.
For Curve,
All the above should increase Curve's adoption rate and transaction volume through enhancement in user stickness & reduction in user's concern with risk & overhead of using Curve.

Increase liquidity in Curve's pools & swap due to the exposure to new users.

As the backbone in Defi, Curve is accessed by many developers in various cases to compose new strategies, tasks or protocols. Increased accessibility to Curve smart contracts & data could further enlarge Curve's impact in the ecosystem.
Architecture
3 building blocks lay the foundation for Onepiece's improved onchain accessibility:
Protocol Integration: Integrating major Dapps on mainstream blockchains;
Data acquisition, processing & structuring for all integrated protocols;
Automation.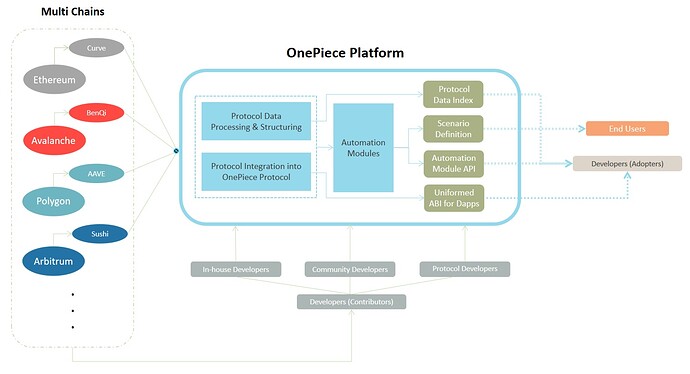 Background
Founder:
With MS in EE from Delft University of Technology, Luffy started as engineer/researcher at Intel Eindhoven, NL. & computer system lab of Stanford University, successively. Then he became a strategy consultant in Accenture and Mckinsey, Amsterdam Office. In 2018, Luffy founded a leading aggregative OTC platform adopted by 100+ crypto-exchanges, wallets and mining platforms. The company shifted focus to Defi asset management since March 2020 with sizable AUM.
Implementation
Milestones
OnePiece sets milestones in the following dimensions:
TVL managed through OnePiece:

a. 1 Billion TVL managed through OnePiece in 4 months after launch
b. 5 Billion TVL managed through OnePiece in 1 year after launch

No. of Task Types provided:

a. 6 in 4 months after launch
b. 12 in a year after launch that covers 70% of the frequent operation cases
c. From month 12 after launch, 30% of the additional ones are contributed by the community and other protocols

No. of Integrated chains incl. L2:

a. 3 in 4 months after launch
b. 8 in a year after launch

No. of Integrated Protocols:

a. 25 in 4 months after launch
b. 80 in a year after launch
c. From month 12 after launch, 60% of the additional ones are contributed by the community and other protocols

No. of processed protocol data instances:

a. 25 in 4 months after launch
b. 50 in a year after launch
c. From month 12 after launch, 75% of the additional ones are contributed by the community and other protocols
Useful Links