Summary:
WBTC collateral is proposed to be added to crvUSD with 200M cap
Specification:
Before creating any market, it is important to do simulations: you can find those on github.
In these simulations, we looked at loss based on BTC price feed: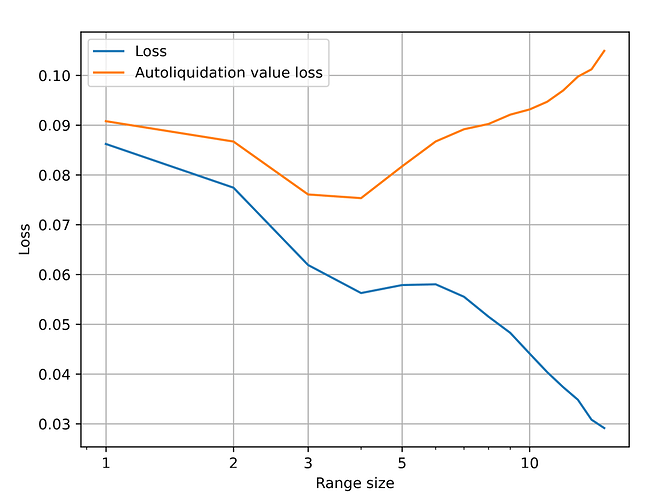 The blue line shows the maximum loss experienced by a borrower who borrowed maximum and was in position for 0.3 days, if you take 0.3-day samples from data ranging from 1 Oct 2021 till today. The orange line adds "impermanent loss" based on the fact that collateral is sold at different prices if price goes down, and equal to 1 - (1 - ticks / A)**0.5 ≈ ticks / (2 * A).
Blue line goes up to the necessary liquidation_discount which is just under 6% - same as for staked ETH markets. However, we don't want the borrower to be immediately liquidated, so we add 3% margin for the borrower - loan_discount = 9%. This brings us to max LTV = 100% - (9% + 2%) = 89%.
Parameter summary
A = 100
fee = 0.6%
liquidation_discount = 6%
loan_discount = 9%
Max LTV = 89%
Price oracle: 0xBe83fD842DB4937C0C3d15B2aBA6AF7E854f8dcb
Monetary policy: 0x1E7d3bf98d3f8D8CE193236c3e0eC4b00e32DaaE (same as for wsteth)
Tests
Fuzzing tests with decimals=8 are added on github and already existed in AMM tests.
Price oracle
The BTC Price Oracle is based on aggregation of tricrypto-ng pools and limited by chainlink +/- 1.5% unless it is stale. Chainlink limits can be turned off by the DAO.
Deployment of the oracle is done by the script.
Votes