Summary:
Bancor launched their liquidity mining program on 11/16 and are rewarding certain pools (8 currently) on their platform with BNT. I am proposing that we use a small amount of our community funds (quantity to be voted upon in a separate CIP) to stake in the Bancor platform to increase the liquidity of CRV in the markets and at the same time potentially have the CRV pool be incentivized by the Bancor team for BNT rewards. If we are able to get the CRV pool incentivized (should be doable with a good commitment from our side) by the Bancor team then we can potentially earn BNT in addition to fees from trading in a relatively low risk manner.
Abstract:
There is currently 151M CRV tokens in the community fund that is sitting unused. I am proposing that we take a small amount of CRV and allocate this to the CRV pool in Bancor. Currently, Bancor is incentivizing 8 pools:
Large-Caps: ETH, WBTC, USDT, USDC, DAI, LINK
Mid-Caps: OCEAN and renBTC
with large-caps pools receiving 100,000–200,000 BNT per week and mid-caps pools receiving 10,000–20,000 BNT per week. The Mid-Caps pools have between ~3-6M in liquidity while the Large-Caps pools start at roughly ~7M as of this time. What this means is that at a minimum we need to allocate ~3M dollars worth of CRV (roughly 3.75M CRV at current market price of $.80) to have the Bancor community consider CRV as a serious contender for addition to their BNT liquidity mining (LM) program. Note that every two weeks new tokens can be added to the LM program and since the program launched on 11/16 then this means that on 11/30 new additions will happen.
I think that we should aim for Large-Cap consideration by making a commitment of 9M CRV. If the community is willing to approve this proposal then we can vote on the exact quantity in a separate CIP and I foresee the following three amounts (3M, 6M, 9M) as contenders.
Edit 11/25/20: Announcements on the Bancor side suggest that a pool needs to have a minimum of $400K in liquidity to be up for consideration. This is a lot less than the minimum 3M CRV estimate that was initially suggested. An exact amount can be determined in the second signal vote should this vote reach quorum.
Motivation:
Bancor is one of the more proven and mature projects in the AMM space that has attracted investment from respectable VC firms (ParaFi Capital most recently). They recently launch version 2.1 of the Bancor protocol that provides:
Single-sided exposure
Liquidity protection (i.e. Impermanent lost insurance)
to their AMM pools. CRV has already been identified as a token that the Bancor team will whitelist for impermanent loss protection and single-sided exposure via elastic BNT supply but hasn't been enabled for it yet due to the lack of liquidity (zero at the moment) and no activity.
By investing some of the CRV in our community fund we are putting this capital to work that would otherwise go unused. With Bancor v2.1 we can have single side exposure to the CRV/BNT pool and liquidity protection which means that there is a relatively low risk of us being affected by Impermanent loss. An example of how this works: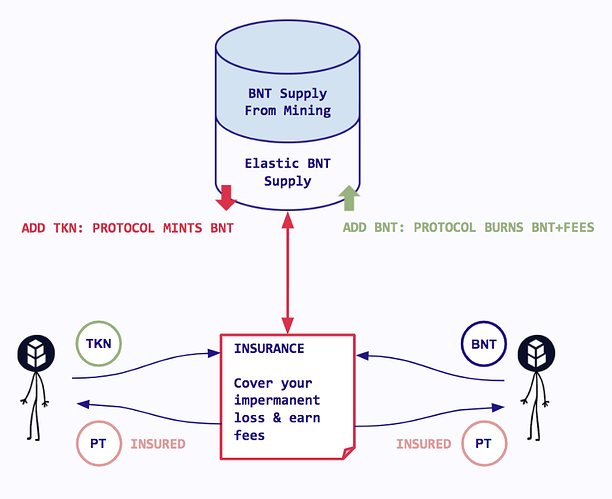 Let's consider that 1 CRV (TKN in the diagram) = 1 BNT:
We deposit 100 CRV in the pool
100 BNT are minted by the protocol to match our deposit
From the issued pool tokens, half are associated with our stake and half are associated with the protocol
Volume goes through the pool
Protocol pool tokens are now worth 110 BNT (due to fees)
An outside LP deposits 110 BNT, which are burnt in exchange for the protocol's pool tokens.
Note that 100 BNT were originally minted and 110 BNT were burned, providing the protocol an excess of 10 BNT .
Excess BNT earned by the protocol is burned to offset the cost of impermanent loss (when a future LP withdraws) and to deflate the overall supply of BNT.
TL;DR If we stake 100 CRV:
The protocol will protect the value of our 100 CRV, regardless of their price.
Meaning, we can enter a pool with CRV worth $100 and withdraw tokens worth $200 if the CRV price has doubled in the market. Plus swap fees.
Implementation:
The steps will be:
Signaling vote on whether we should use CRV from the community fund in the Bancor platform <== We are here
Signaling vote to determine the amount of CRV to use in Bancor
On-chain vote: CRV amount to be allocated for Bancor LM program
Approach the Bancor community with our commitment and have them whitelist the CRV pool
Deposit CRV into the Bancor pool and apply for the LM program
Specification:
Announcing BNT Liquidity Mining
Proposal: Liquidity Mining
Proposing Bancor v2.1: Single-Sided AMM with Elastic BNT Supply
Bancor v2.1 Initial Whitelist
Bancor v2.1 Staking Guide
How to Whitelist a Token on Bancor v2.1
Economic Analysis
Technical Explainer
For:
Let's us use the community fund in a relatively low risk manner to start earning trading fees and potentially BNT rewards.

Allows us to generate cash flow from investing CRV that is otherwise sitting idle and unused.

Other communities are also considering this as well (see YFI Bancor YFI/BNT Pool)
Against:
The community fund should not be used for investing activities.
Poll:
https://signal.curve.fi/#/curve/proposal/QmWsyBa9Y4RQ3S7nNP7URXCGudysHk1m99KkXxTGMtnUVw