Summary:
Harmony is proposing to deploy Curve on the Harmony blockchain to expand stablecoin swap to its community of users and provide incentives to bootstrap the launch of Curve to a new ecosystem.
Abstract:
Our proposal is to support Curve as it continues to expand in the coming multi-chain world. Harmony is an open and fast blockchain that is fully Ethereum compatible with 2-second transaction finality and near-zero fees.
Harmony invites the Curve community to support this launch. Harmony will provide $2 million in incentives in ONE tokens to bootstrap initial usage of Curve on Harmony. We also propose the Curve community to contribute CRV tokens to add incentives to the launch.
Harmony is a sharded proof-of-stake blockchain. It has processed more than 93 million transactions on mainnet and it is fully EVM and Ethereum tooling compatible. Our secure bridges offer cross-chain asset transfers with Ethereum and Binance Smart Chain.
Motivation:
Curve is ready to go multi-chain and we want to help bring it to the Harmony ecosystem, which is growing with the launch of Sushi on Harmony and other DeFi projects.
A unique feature of Harmony is our bridges to Ethereum and Binance Smart Chain which are bringing in stablecoins and pegged assets from both ecosystems, i.e. ethBUSD-bscBUSD. This creates an unique opportunity for Curve to support stablecoin swapping of assets from multiple chains.
Below here is the current liquidity and some of the top pairs of Sushi deployed on Harmony: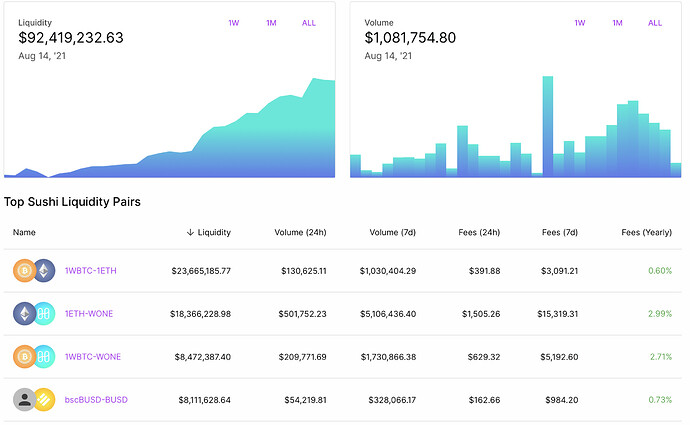 Specification:
The Harmony and Curve team will deploy the Curve contracts and gauge on Harmony. Harmony supports EVM and Ethereum tooling, leading to a seamless integration, much like other EVM chains and L2s. During Harmony's DeFi Hackathon in Sep 2020, a community team already successfully ported Curve on testnet: GitHub - harmony-one/dapp-curve-contracts and GitHub - harmony-one/dapp-curve-ui: Frontend for curve.fi on harmony.one).
After the market is functional, we will work with the Curve core devs for cross-chain governance implementation on Curve on Harmony.
References
Homepage: https://www.harmony.one/
Documentation: Welcome - Harmony
Source code: GitHub - harmony-one/harmony: The core protocol of harmony
Audits: https://harmony.one/audit and https://harmony.one/audit2
Metrics
over 17,400 delegators and 115 validators, staking 4.6 billion ONEs ($450m staked)
$90 million TVL on Sushi on Harmony, and $30 million combined on other DEXes
$100 million TVL on Harmony's bridge to Ethereum and BSC
60+ active Dapps; 135,000 active wallets; 93M mainnet transactions
Users: Twitter (199K), Reddit (27K), Telegram (25K), Youtube (10.5K), Discord (6K)
For:
Curve will be the first major stablecoin swap on Harmony and will add net new users from Harmony's 350,000+ community members. After enabling DeFi primitives like AMMs, our community is eagerly awaiting a stablecoin swap on Harmony.
Against:
Curve will need to maintain an additional deployment on Harmony. The Harmony team will work with Curve core developers to ensure a smooth deployment and work together to enable multi-chain governance in the future roadmap.